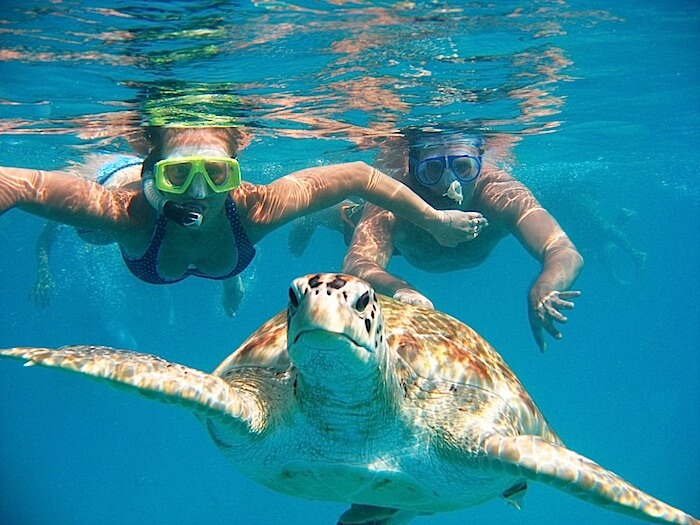 Tenerife is an ideal location for snorkelling in the Atlantic Ocean where both beginners and more experienced snorkellers can have a terrific experience. It is best enjoyed during September till November when there is no wind and the sea gets transformed into a mirror. However, the climate always remains mild and snorkelling can be enjoyed any time of the year.
One sea creature that will accompany you while snorkelling in Tenerife is the green turtles and the loggerhead turtles. They are almost 5 different species of sea turtle around Tenerife and are found very close to the coast. You just need a nice spot, diving goggles, a snorkel and you are good to go. Flippers are optional as they are used to increase speed.
El Puertito (Turtle Bay)
If you are looking for an isolated beach and a secluded snorkelling experience, El Puertito is the most ideal place. It is a small bay, quite near to Costa Adeje and Playa Paraiso. Book a turtle safari in Tenerife through Club Canary tour company for snorkelling with turtles Tenerife Costa Adeje and enjoy 50 minutesguided tour of underwater adventure. Club Canary focuses on providing all kinds of fun and adventurous seawater activities for tourists in South Tenerife.
The safari trip departs from Playa de las Americas for the location of dive center Vibe Dive. You will be provided with snorkelling gear, a wetsuit, and a live jacket.
Playa de las Vistas
This is an artificial beach with crystal clear water and white sand. It is quite near to the prime spot of Playa de las Americas. Being the longest beach in Tenerife, there are lots of other activities too like surfing, jet-skiing, and hand-gliding.
The best places for snorkelling in Tenerife are located a little away from the shore. Hence, you have better chances of spotting turtles and rays.
Playa de la Arena
Located in the northeastern part of Tenerife, this is the cleanest beach with clear water and black sand. The conditions are most perfect for snorkelling and the beach is also less crowded than the southwestern beaches.
Dive in deep to discover the fascinating underwater world. You will get to see the greatest variety of sea life due to the number of rocks present.
Playa de Radazul
This is another very clean and well-maintained beach 8 miles from Santa Cruz, on the northeast Tenerife coast. This is a popular location for snorkelling as the water is very calm and the ocean is easily accessible.